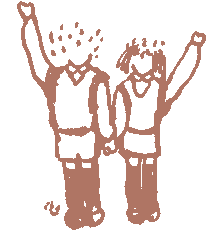 1. Number of Available Spaces
Approximately 25 students (born April 2, 2020−April 1, 2021)
※ All students must be 2 years old by April 1st, 2023.
2. Application Procedure
■ Application Forms
Forms will be available on Monday August 29th from the Hiroshima YMCA International
Kindergarten, 7-11 Hatchobori, Naka-ku, Hiroshima.
Tel:082-228-2657(English),
Tel: 082-228-2269(Japanese).
Office hours:10:00am-6:00pm
Monday thru Saturday(Closed on Sundays & National Holidays).
■ Application Deadline
Due to differing school calendars worldwide, and parents' work transfer dates, our application dates are flexible for families arriving from overseas. Therefore, we do not have a deadline but rather we accept applications all year round.
■ Enrollment Procedure
Please present your Letter of Acceptance, Health Certificate and the Entrance Fee to the YMCA International Kindergarten to confirm enrollment. Please note that once enrollment is confirmed, your entrance fee will not be refunded.
3. Expenses
■ Entrance Fee -
¥100,000
The entrance fee applies only to the year of initial enrollment.
■ Facility Fee -
¥65,000(charged annually)
This fee is for usage of classrooms, swimming pool, gymnasium, the playground on the roof and air conditioning.
■ Learning Material Fee -
¥55,000 (charged annually)
Includes materials used for learning center, arts & crafts, music and gymnastics.
■ Tuition & Programme Fee - ¥912,000(charged annually)
This fee includes daily care, lessons, and special instruction in swimming, gym, arts & crafts, and music. Please note that transportation fees for Sports Day and Family Picnic are not included.
※The Monthly Tuition & Programme Fee is ¥98,600.
■ Y's Lunch Fee -
¥132,000(charged annually)
"Special Event Lunch" once a month.
This cost includes cooking, use of the cooking facilities, food and utensils.
It also includes ingredients and utilities used in the cooking programme.
※The Monthly Lunch Fee is ¥15,000.
■ School Uniform Set -
¥50,600