This page is

HOME
Introduction of Programs ・ Services ・ Facilities
After-School Academic Support
After-School Academic Support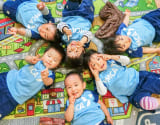 7-11 Hatchobori, Naka-ku, Hiroshima 730-8523 Hiroshima YMCA (Red Brick Building, 7th Floor)
TEL:082-228-2545
"Kids Club" is a program for 2 and 3 year old children that is offered either 2 days or 3 days a week. Kids Club supports the mental, social and emotional development of young children, and provides them with a head start in developing confidence and a readiness for entering kindergarten.
In the after-school "school club" and regular "Saturday Package Program" for elementary school students, professionals lead these programs. We support their studies at after-school to the children , take part in many activities using YMCA's extensive facilities, and enjoy the experience of nurturing overall growth.
Various seminars and classes aimed at building scholastic ability are open to elementary school students preparing to enter junior high school as well as for junior high school and high school students preparing for next level entrance examinations. All classes are small size and each academic subject is taught by specialist instructors. Students can choose from study options that best suit their purpose and style of learning including individual guidance, personal tutoring, or group lessons. Arrangements can also be made for friends or siblings to take lessons together. Special seminars are conducted during spring, summer and winter school-break periods.
Hiroshima YMCA is located in central Hiroshima city (Hatchobori), and is a 3-minute walk from Tatemachi bus and streetcar stops.
Ages:

Area: