This page is

HOME
About YMCA
About World YMCA Movement

---
---
World YMCA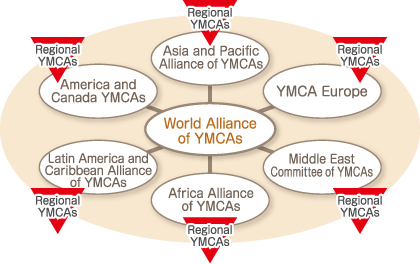 ▲The World Alliance of YMCAs Organization
There are presently YMCAs operating in 120 countries and territories with over 10,000 local associations worldwide in cities, towns and villages. The international YMCA movement reaches approximately 65,000,000 individuals including program participants, benefactors, members, staff and volunteers.
Each country's movement has a National Council of YMCAs which oversees and supports its city and local YMCA associations. The World Alliance of YMCAs, based in Geneva, Switzerland is a confederation of the entire body of National Councils of YMCAs throughout the world.
There are also 7 regional YMCA organizations including Africa, Asia and the Pacific, Europe, Latin America and the Caribbean, Canada, USA, and the Middle East. Within each regional organization, YMCAs work in collaboration to address the pressing issues and needs of YMCA movements in their area of the world. Japan YMCA along with 22 other national movements belong to the Asia & the Pacific Regional YMCA organization which is based in Hong Kong.
Local YMCA organizations are deeply rooted to their communities and are autonomously managed to serve their members. The World Council of YMCAs has established guiding principles. Adhering to these guiding principles, YMCAs in Japan are committed to playing an instrumental role to strengthening communities and nurturing the spirits, minds and bodies of individuals through a wide array of programs and services.
The YMCA is recognized as one of the oldest and largest youth organizations in the world, and as a public service organization, YMCA collaborates with international organizations, religious groups, local governments, citizen's groups, and other bodies to strengthen communities and fulfill its mission. The World Alliance of YMCAs gained special consultative status to be on the United Nations Economic and Social Council in 1947, and in such capacity, YMCA plays a leading role in addressing economic and social challenges which people, communities and countries throughout the world are confronted with.
International YMCA Network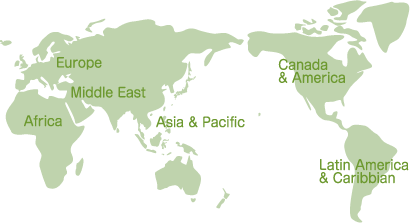 ≪Europe≫
Austria / Belarus / Belgium / Bosnia and Herzegovina / Bulgaria / Czech Republic / Denmark / England / Estonia / Finland / France / Georgia / Germany / Greece / Hungary / Iceland / Ireland / Italy / Kosovo / Latvia / Lithuania / Macedonia / Malta / Moldova / Montenegro / Nagorno-Karabakh Republic YMCA Artsakh / Netherlands / Norway / Poland / Portugal / Romania / Russia / Scotland / Serbia / Slovakia / Spain / Sweden / Switzerland / Turkey / Ukraine / Wales
≪Africa≫
Angola / Cameroon / Ethiopia / Gambia / Ghana / Kenya / Liberia / Madagascar / Nigeria / Senegal / Sierra Leone / South Africa / Tanzania / Togo / Zambia / Zimbabwe
≪Asia & Middle East≫
Bangladesh / Cambodia / China / East Timor / Egypt / Hong Kong / India / Indonesia / Israel (Nazareth – West Jerusalem) / Japan / Jordan / Korea / Lebanon / Macau / Malaysia / Myanmar / Nepal / Pakistan / Palestine (East Jerusalem) / Philippines / Singapore / Sri Lanka / Taiwan / Thailand / Vietnam
≪Americas≫
Argentina / Aruba / Bahamas / Barbados / Belize / Bolivia / Brazil / Canada / Cayman Islands (in development) / Chile / Colombia / Costa Rica / Cuba / Dominican Republic / Ecuador / El Salvador / Guatemala / Guyana / Haiti / Honduras / Jamaica / Mexico / Nicaragua / Panama / Paraguay / Peru / St. Vincent / Suriname / Trinidad and Tobago / Uruguay / United States / Venezuela
≪Oceana & South Pacific≫
Australia / Fiji / New Zealand
Founding of YMCA

The YMCA (Young Men's Christian Association) was established in 1844 in London, England by 12 young men who were in their early twenties. George Williams (1821-1905), the founder of the YMCA, was born on a farm in the south of England. At the age of 14, he moved to London to work in a draper's shop. Industrialized London was fraught with vices and filled with turmoil and despair for the many young men like him who migrated there from rural areas. After laboring long hours, his co-workers would often indulge themselves recklessly in alcohol and unhealthy influences. George Williams was deeply troubled by what he saw and felt that it was important for these distressed men to be strong in mind and spirit. He gathered 11 friends from his shop and organized the first YMCA as a refuge for Bible study and prayer sessions where young men could be filled with the spirit of Christ. It was the objective of these 12 associates to improve the spiritual condition of young men and endeavor for the mutual improvement of society. On June 6, 1844, the YMCA was formed.
YMCA Mission Statement
After its founding in London in 1844, the YMCA rapidly spread to other countries. In 1855, Henry Durant, born in Geneva, Switzerland and founder of the International Red Cross, called for the first ever International YMCA Conference which was held in Paris, France. Ninety nine young men representing 38 local YMCAs from 8 countries came together to partake in this historic gathering. The World Alliance of YMCAs was formed and the mission of the World YMCA movement that was to be known as the "Paris Basis" was adopted.
In 1973, The 6th World Alliance of YMCAs Conference was held in capital city of Kampala, Uganda. It was there that the Paris Basis was reaffirmed, while at the same time, the "Kampala Principles" were adopted which interpreted the YMCA mission statement to reflect contemporary realities in society.
More recently, "Challenge 21" was adopted in 1998 to further interpret the mission and purpose of the YMCA in light of realities that the world faces in the 21st century.
As society goes through periods of transformation, YMCA programs and services may change to meet new needs, however, YMCA always moves forward while endeavoring to fulfill the mission that its founding fathers envisioned and built the YMCA movement upon.
Paris Basis
"The Young Men's Christian Associations seek to unite those young men who, regarding Jesus Christ as their God and Savior, according to the Holy Scriptures, desire to be his disciples in their faith and in their life, and to associate their efforts for the extension of his Kingdom amongst young men.
Any differences of opinion on other subjects, however important in themselves, shall not interfere with the harmonious relations of the constituent members and associates of the World Alliance."
The Kampala Principles
Recognizing the character of the YMCAs in the world today, this act of acknowledging the Paris Basis places upon the various associations and their members as fellow workers with God such imperatives as:
To work for equal opportunity and justice for all.
To work for and maintain an environment in which relationships among people are characterized by love and understanding.
To work for and maintain conditions, within the YMCA and in society, its organizations and institutions, which allow for honesty, depth and creativity.
To develop and maintain leadership and program patterns which exemplify the varieties and depth of Christian experience.
To work for the development of the whole person.
Challenge 21
Affirming the Paris Basis adopted in 1855 as the ongoing foundation statement of the mission of the YMCA, at the threshold of the third millennium we declare that the YMCA is a world-wide Christian, ecumenical, voluntary movement for women and men with special emphasis on and the genuine involvement of young people and that it seeks to share the Christian ideal of building a human community of justice with love, peace and reconciliation for the fullness of life for all creation.
Each member YMCA is therefore called to focus on certain challenges which will be prioritized according to its own context. These challenges, which are an evolution of the Kampala Principles, are:
Sharing the good news of Jesus Christ and striving for spiritual, intellectual and physical well-being of individuals and wholeness of communities.
Empowering all, especially young people and women to take increased responsibilities and assume leadership at all levels and working towards an equitable society.
Advocating for and promoting the rights of women and upholding the rights of children.
Fostering dialogue and partnership between people of different faiths and ideologies and recognizing the cultural identities of people and promoting cultural renewal.
Committing to work in solidarity with the poor, dispossessed, uprooted people and oppressed racial, religious and ethnic minorities.
Seeking to be mediators and reconcilers in situations of conflict and working for meaningful participation and advancement of people for their own self-determination.
Defending God's creation against all that would destroy it and preserving and protecting the earth's resources for coming generations. To face these challenges, the YMCA will develop patterns of co-operation at all levels that enable self-sustenance and self-determination.
(Adopted at the 14th World Council of YMCAs, Frechen, Germany, 1998)
---