This page is

HOME
Introduction of Programs ・ Services ・ Facilities
Japanese Language Study
Japanese Language Study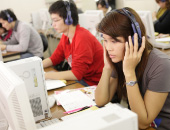 7-11 Hatchobori, Naka-ku Hiroshima 730-8523 Hiroshima YMCA (Building 1)
TEL:082-223-1292
Hiroshima YMCA Japanese Language Communication course offers foreign students instruction in Japanese language starting from beginner level through advanced study. Students are able to acquire desired levels of Japanese proficiency necessary for entering university, interacting in the business world, or for everyday life in Japan.
In addition to the full-time course which meets 5 days a week, there are courses that meet 2 or 3 days a week, short term courses, and private lessons. Classes taught by volunteer instructors are available to beginner students free of charge. Specially tailored lessons can also be set up for companies upon request.
Hiroshima YMCA is located in central Hiroshima city (Hatchobori), and is a 3-minute walk from Tatemachi bus and streetcar stops.
Ages:

Area: