This page is

HOME
Introduction of Programs ・ Services ・ Facilities
Wellness & Sports
Wellness & Sports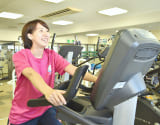 7-11 Hatchobori Naka-ku Hiroshima 730-8523 Hiroshima YMCA (Red Brick Building, 7th Floor)
TEL:082-223-8130
Hiroshima YMCA Wellness Sports Center is a comprehensive fitness center which meets a wide range of needs and interests. Facilities include an all-purpose gym, indoor heated pool, studio, fully equipped training room, etc. It also has facilities and equipment for basketball, volleyball and table tennis. A personal training room, massage room, therapy room, chiropractic room, dry sauna and showers are also available.
The center offers programs and classes in swimming, gymnastics, soccer, basketball, ballet, karate, Life Kinetic to children of all ages. In addition, various classes and sessions for adults are conducted by professional staff to maintain enhanced health. This comprehensive sports and fitness club offers a wide range of opportunities to participants who can choose to exercise individually or enjoy playing team sports and partaking in group activities.
The Wellness Sports Center also organizes outdoor programs and camps for children that are conducted by professional staff and trained leaders who have a keen interest in working with children in the outdoors. Programs are offered on either a monthly basis or conducted during the school break seasons. Programs and camps include excursions, field play, seaside programs, river programs, snorkeling, tent life, mountain climbing, outdoor arts & crafts, canoeing, insect-collecting, fishing, outdoor cooking, skiing, snow-play, farming experience, nature study and many other outdoor activities that will bring new sparks of interest and discovery into children's lives.
Hiroshima YMCA is located in central Hiroshima city (Hatchobori), and is a 3-minute walk from Tatemachi bus and streetcar stops.
Ages:

Area: