This page is

HOME
Introduction of Programs ・ Services ・ Facilities
English & Foreign Languages Study
English & Foreign Languages Study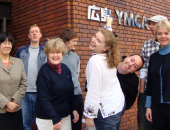 7-11 Hatchobori Naka-ku, Hiroshima 730-8523 Hiroshima YMCA (Red Brick Building)
TEL:082-228-2269
Hiroshima YMCA School of Languages offers a wide array of classes in foreign languages ranging all levels and purposes of study. More than 150 classes are on offer. These include foreign language classes in Chinese, French, Korean, Spanish, etc. in addition to English classes for conversation, test preparation, and interpretation. Classes are available for parent and child (1.5 years old), preschool children, elementary school students, junior and senior high school students, returnee students, adults, and seniors. Special events are conducted throughout the year for students to enjoy partaking in various intercultural activities.
Hiroshima YMCA also offers private lessons to individuals or small groups, language programs to companies, and outsources trained teachers to educational institutions. Interpreter & translation services are available upon request.
Hiroshima YMCA is located in central Hiroshima city (Hatchobori), and is a 3-minute walk from Tatemachi bus and streetcar stops.
Ages:

Area: