This page is

HOME
Introduction of Programs ・ Services ・ Facilities
Vocational Colleges
Vocational Colleges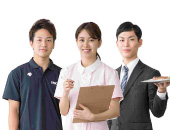 7-11 Hatchobori, Naka-ku, Hiroshima 730-8523 Hiroshima YMCA (Building 1)
TEL:0120-512-925
Courses: Medical Office / Hospitality / Physical Education / Japanese Language Communication
Specialized courses of study are offered to pursue careers in the fields of medical office work, medical secretary, medical ward clerk, pharmaceutical office staff, dental assistant, dentistry office staff, hotel staff, bridal coordinator, international business, sightseeing & tourism, and physical education trainer/instructor.
The Japanese Language Communication course prepares foreign students with the proficiency required to enter Japanese colleges and universities, or to go on to pursue careers in which Japanese is used.
Hiroshima YMCA is located in central Hiroshima city (Hatchobori), and is a 3-minute walk from Tatemachi bus and streetcar stops.
Ages:

Area: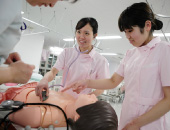 2-6-25 Marifu-cho, Iwakuni city, Yamaguchi prefecture 740-0018
TEL:0827-29-2233
Courses: Health Nursing / Nurse Training
A degree in Health Nursing will earn government qualification in the simultaneous acquisition of "nurse" as well as "health nurse" in the same manner as a medical nursing university. The Nurse Training course offers assistant nurses two years of intensive training to become qualified as a certified nurse.
Iwakuni YMCA is a 3-minute walk from Iwakuni train station.
Ages:

Area: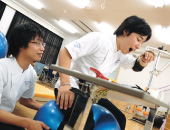 3-3-2 Kinkai-machi, Yonago city, Tottori prefecture 683-0825
TEL:0859-35-3181
Courses: Physical Therapy / Occupational Therapy / Certified Care Worker
The Physical Therapy course appeals to individuals who enjoy physical activity, providing service to others, and engaging in personal therapeutic relationships in order to prevent, restore or resolve dysfunctional conditions of patients.
The Occupational Therapy course trains individuals to understand the mind and condition of patients with disabilities or special needs, and to assist them to perform activities important for daily living.
The Certified Care Worker course prepares individuals with the skills required to administer the specialized care, support and understanding to elderly and disabled people in order that they can live safe and fulfilling lives. An advanced diploma is granted to graduates of the physical therapy and occupational therapy courses.
Yonago YMCA is a 20-minute walk from Yonago train station.
Ages:

Area: