This page is

HOME
Introduction of Programs ・ Services ・ Facilities
Travel ・ Study Abroad
Travel ・ Study Abroad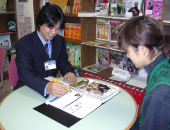 7-11 Hatchobori, Naka-ku Hiroshima 730-8523 Hiroshima YMCA (Building 2)
TEL:082-222-3003
Educational Travel provides overseas homestay and language study programs for elementary, junior high school and high school students living in the Hiroshima area during spring, summer and winter school-break periods. YMCA staff or experienced leaders accompany participants during their stay abroad. There is a prior training for participants who naturally feel anxious before departing to travel abroad which will motivate and prepare them to take part in the intercultural experience. After returning to Japan, a follow-up program is conducted for participants. A report including a CD with program pictures is also provided to participants and their parents.
Study Abroad Center offers full support to individuals who desire to study abroad at a language school, college or university. An experienced YMCA staff will offer counselling and assist in selecting the location and school according to the purpose, budget and needs of the individual. Securing accommodations, acquisition of visa, airline tickets, pick up at airport, insurance, preparation of documents, etc. can all be provided to assure for a smooth and quality study abroad experience. Free consultation is offered upon request.
Hiroshima YMCA is located in central Hiroshima city (Hatchobori), and is a 3-minute walk from Tatemachi bus and streetcar stops.
Ages:

Area: